1838 - Birth of William Butlin (Billys grandfather)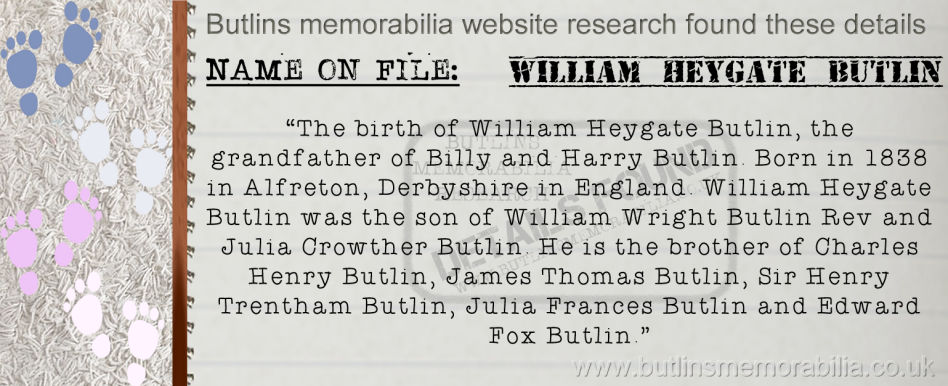 Extra Research

As you can see here, Sir Billy Butlin has his first two names in honour of his grandfather. However, research shows that the family tree goes further, showing how the name has been strong throughout the Butlin family tree.

William

The name William has been used in the Butlin name as far back as 1730. This person's name is William Butlin and would have been Sir Billy Butlin great, great, great grandfather.

An interesting note: Sir Billy's great, great grandad was James Butlin with his brother named after William Butlin. However, in 1814, Sir Billy's great grandad was William Wright Butlin leading to them naming their son (Billy's grandad) William Heygate Butlin.

Heygate

However, the name Heygate goes in a different direction. Between 1743 and 1800, a lady named Ann Heygate married William Butlin. The surname Heygate goes far back before 1705, showing you the honour Sir Billy had with carrying this name onto a new era. The interesting note with the Heygate surname is that it was not reused (according to the family tree) until Sir Billy Butlin grandfather was named in honour. Sir Billy's grandfather and Caroline Butlin had four children.

Two of these continued the Heygate surname, Charles Heygate Butlin and John Colborne Heygate Butlin.